Proud recipients of the NJ Clean Communities
Excellence in Education Award

We are B.E.A.R, Debbie and Mike Bennett, and since 2010 we have brought our presentations/displays to over 20,000 kids aged 4 to 100, throughout NJ, DEL, PA and Wash, DC. B.E.A.R. promotes education by offering environmental, boating safety (including green boating practices) and recreational programs, designed to help people make responsible decisions about the environment. Hopefully, when people are enjoying the outdoors and educated about the sources and effects of pollution, they will be less likely to contribute to the problem and more respectful of our environment.

""Junior Boating Safety""
Teaching boating safety awareness to our younger boaters

""Suddenly in Command""
What to do if you were suddenly in charge of controlling the boat

"Pollution Solution/Everything Eventually Ends Up in the Water"
The impact we have on our environment and ways to make a difference

"Reel Fun Fishing"
A youth/family fishing/environmental club

"Outdoor Adventures"
A youth/family club which combines outdoor recreation activities (archery,
camping, hiking, kayaking, etc.) together with environmental awareness

BEAR hosts programs and events for Veterans,
Special Needs groups and the general public.


******************************************************************
Upcoming Events

April 4th - Basic Youth Archery - 9am-11am @ Ocean County Park
April 21st - Basic Youth Archery - 9am-11am @ Ocean County Park
April 28th - "Learn To Fish" - 10am - noon @ Lake Shenandoah

May 5th - Fishing Contest - registration starts at 7:30
May 19th - "Water Festival" - 10am - noon @ Ocean County Park

May 18th - "Learn to Fish" - 6pm @ West Marine, Brick
May 26th - Junior Boating Safety - 10am @ West Marine, Brick

June 9th - Veteran's Fishing Tournament -
more details to follow
***************************************************************
Contact information:

Mike & Debbie Bennett - 732-492-4009

NJ State Certified Instructors
Certified Volunteer Master Naturalists
Certified Hooked on Fishing Not on Drugs - Educators
Certified - Basic Archery Instructors

Email us: BEAR@boatingeducationandrescue.org

Like us on Facebook

B.E.A.R is partnered with, promotes and participates with:

Barnegat Bay Partnership – outreach/educating the public on environmental issues regarding the Barnegat Bay and it's watershed.
Ocean County Park Systems – Fun, safe, educational outdoor recreational activities, environmental and boating safety presentation
Jenkinson's Aquarium - Dedicated to educating the public on all aspects of marine life and conservation
SUEZ - one of the Nation's leading environmental companies, providing water and waste recycling services to more than
7.5 million people in the U.S. and Canada. Globally, SUEZ is present on all five continents and is a major player in circular
economy for the sustainable management of resources.
Marine Trade Association (MTA)- Bringing boating safety and clean boating practices to their members and customers. MTA promotes and protects the recreational marine industry and waterways in NJ
Department of Environmental Protection - monitoring the Environmentally Sensitive Zones, Water Quality Monitoring and educating the public on Environmental/ Green Boating activities. Promote and participate in the annual/bi-annual "Barnegat Bay Blitz" – a watershed wide clean up. Outreach/educators for schools and other organization on environmental issues. Educating the public on the Sea Nettle problems.
Sea Grant Consortium/Clean Vessel Act - promoting the use of the Pump-Out Facilities and Pump-Out Boats. Sea Grant Consortium programs are directed towards advancing greater understanding and stewardship of our state's marine and coastal resources
NJ Clean Communities - A statewide, comprehensive, litter abatement program serving New Jersey residents and visitors for over 25 years
Clean Ocean Action – promote and participated in beach clean-ups.

B.E.A.R. set-up "Life Jacket Loaner Stations" at various areas throughout Ocean County and donated the life jackets to these locations.
B.E.A.R works with many special needs groups - "Day on the Bay" - Boat Rides to Special Needs People and their families. Works with Ocean County Park and ARC of Ocean County, bringing environmental programs (i.e. shellfish, benefits of earthworms, composting, and fishing fun). Many fishing events with special needs children and adult groups
B.E.A.R. assists Disabled Veterans with fun, safe outdoor activities.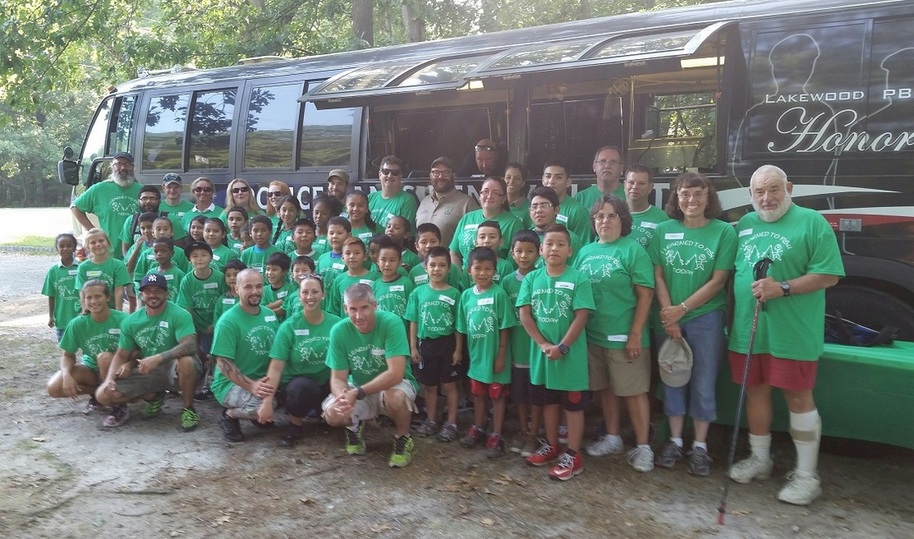 ---